With 6000 people squeezed onto one ship. The restaurants on the AIDAnova are constantly overcrowded. You can't find a free table and the buffet is empty. Logical consequence: You starve to death on the cruise!
Yes, that sounds very dramatic. But these are thoughts that are likely to cross a potential cruiser's mind given the number of passengers. These are just some of the prejudices that the newest and largest AIDA ship has to contend with. The fear of lack of space and rest is omnipresent before the start of the trip. But why these worries are completely unjustified, how it really looks in the restaurants and what delicacies the ship offers, you will learn in this article.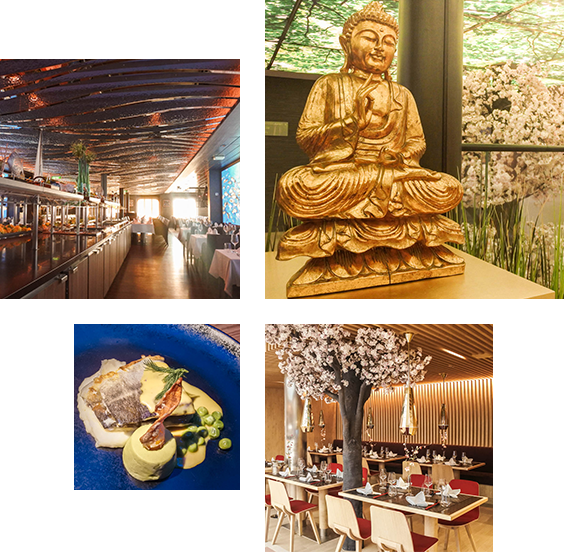 At the beginning of January 2019, I was a week with the AIDAnova on the Canary Islands and Madeira. I hung myself as a 3rd passenger to my parents and traveled so for a ridiculous price. I can only recommend this to anyone who can stand being with their parents (or alternatively friends) in such a small space. Fortunately, this works quite well for us in the meantime. Having never been on an AIDA cruise before, I was very curious about this huge ship.
In addition to the amenities and entertainment on offer, there is hardly a more important topic for many cruisers than the food – I count myself among this group. Because I like to try new things, love the wide selection and enjoy not having to cook and being served. Surely this is also an important criterion for many other vacationers. That's why details of the numerous restaurants and dining options on board the AIDAnova, including personal top recommendations, now follow.
Restaurant overview on the AIDAnova
#1 Bella Donna & Markt Restaurant
#2 Yacht Club Restaurant
#3 East Restaurant
#4 Fuego Restaurant
#5 Street Food Mile
#1 Casa Nova
#2 French Kiss
#3 Best Burger @ Sea
#4 Brauhaus
#5 Ocean's
#1 Sushi House
#2 Teppanyaki Asia Grill
#3 Churrascaria Steakhouse
#4 Gourmet-Restaurant Rossini
#5 Time Machine Restaurant
#1 Eisbar
#2 Juicy's & Smoothies Bar
Kreuzfahrten mit der AIDAnova
The buffet restaurants on the AIDAnova
There are a total of 17 restaurants on board the AIDAnova – five of which are buffet restaurants alone, where you can feast and drink without limit.
#

1

Bella Donna & Markt Restaurant

In my opinion, the best and apparently most popular buffet restaurants are the Italian Bella Donna and the German-influenced Markt Restaurant. They are the largest restaurants by area and also offer the largest selection. For breakfast, the offer is always very similar at both: in addition to bread, rolls, croissants, sweet pastries and breakfast cakes, there are of course also various cold cuts, cheeses, egg dishes, cereals and fruit.

And very importantly, both restaurants also serve smoked salmon. I can especially recommend the small pancakes, which are always quickly out of stock, and the muesli corner, which tempts with numerous delicious toppings.

In the evening, both restaurants have light variations on offer, which is why you should stop by if only out of curiosity. Maybe you will discover a unique delicacy. So I made big eyes when one evening there was Kaiserschmarrn. Yum! I was really happy then.

As already mentioned, Bella Donna serves mostly Italian food. If you want pasta or even good pizza, you are in the right place, because the offer is diverse in this regard.

In the market restaurant the food is rather traditional. Here you also discover Rouladen, Käsespätzle or Rotkohl. However, numerous salads or even fish can be found in both restaurants. Definitely both are a good choice – especially in the evening.
#

2

Yacht Club Restaurant

The "new" Yacht Club buffet restaurant feels like a small market restaurant. The food offer is also rather German, but much smaller and not really exceptional. The only advantage is that it is a bit cozier and quieter here.
#

3

East Restaurant

The East Restaurant is supposed to bring in even more variety and offers Asian food… which I looked for in vain. Well, the food may be slightly Asian, but I imagined something different for an Asian buffet restaurant.

Spring rolls, fried noodles or even tandoori chicken – I didn't find any of those. Instead, there are roasted vegetables and a fairly "normal" fish and meat offering.

What did excite me, however, were the Asian dips & sauces and the Indian naan bread. This was really great and I wish they would cook more in this direction. Otherwise, the concept of the restaurant is simply missed.
#

4

Fuego Restaurant

The Fuego restaurant on deck 16 is basically a kids and family restaurant. There you can find typical children's food like burgers, spaghetti, very good pizza, sausages and ice cream. Aside from the pizza and (free) ice cream, however, the Fuego restaurant is not particularly appealing. The food offer is relatively limited and things are a bit wilder and more chaotic there. However, it is ideal for families with small children.
#

5

Food in the Street Food Meile on the AIDAnova

For the small hunger in between or if you want to have something quickly on hand, the street food corner is ideally suited.

Brot & Stulle offers a variety of sandwiches which are also available very early in the morning. Coffee is also available for self-service for the early risers.

The concept of the kebab stand may have been copied from TUI Cruises, where it was enthusiastically received by guests. The kebab there is also just top-notch. So my hope was high that the AIDA kebab might be similarly good. Well, my hope was not fulfilled. In direct comparison, the AIDA kebab unfortunately fails. The meat was not grilled enough and the amount of meat was too small. The bread was not crunchy and overall just boring and bland. The product simply lacked love & originality. Thus, the kebab is definitely in need of improvement.

At the 3rd station of the street food corner there is the ever-popular Curry-Wurst. There's basically nothing to be said against that. You get a good small portion and the sausage tastes good. That's it.
The specialty restaurants on the AIDAnova
In the so-called specialty restaurants the food is included, only the drinks have to be paid extra. These include the Best Burger @ Sea, Ocean's seafood restaurant, the French restaurant French Kiss, the Italian Casa Nova and the good German Brauhaus with its open-air beer garden. Before I give my feedback on the food, it should first be about the organization of these restaurants, because it unfortunately deserves a thumbs down.
Reservation is mandatory!
I didn't know that beforehand and stood there looking a bit silly. How exactly would you know that, please? In the travel documents was nothing about it and in the MyAida account you could make reservations before departure. The fact that you don't get a table at all without. I did not expect that. After all, I know this from other ships quite differently. There you can show up and get assigned a table if available without any complications.
AIDA was probably afraid of too big a rush to the new restaurants and therefore introduced the reservation requirement. If you missed the opportunity to make a reservation from home, you can still do so on board if there are still seats available.
To do this, you either go directly to the desired restaurant and speak to the responsible person – which did not work for me – or you go to the culinary counter, that is open at certain times in the Theatrium.
After a long queue (although there were only 3-4 groups in front of me) I finally got my turn. "Ocean's is already booked for the rest of the trip," I got to hear. Great, thanks. In the French Kiss and Casa Nova, however, there was still something free on two evenings. I was eager to try both, so I quickly put my money where my mouth is and made a reservation. Something, after all, and I was slightly relieved.
When we finally sat in the restaurants, they were half empty at most. And I also saw Ocean's really full only once. Something is clearly going wrong.
The problem with the AIDA system is: passengers can make reservations in advance, but then simply not show up. Thus, actually reserved tables remain free in the end. Quite annoying when you look at the many free tables in the evening, but are told that everything is fully booked. Nobody wins that way. One can only hope that the responsible people will recognize the problem and come up with a better system.
My conclusion about the food in the restaurants of the AIDAnova
Both the Casa Nova and the French Kiss thrilled me. No course has disappointed me. Rather, some creations have even surprised me very much. If you can get a spot, I highly recommend it. It is a culinary delight.
#

1

Casa Nova

The dessert at Casa Nova particularly stood out. The cassata with berry ragout is a cake with a meringue topping surrounded by sour berries. I did not know anything like that until now and it was simply outstanding. *Dream* Absolute must try!
#

2

French Kiss

Also at French Kiss, everything I tried was great – except the eclair. It was actually pretty bad and had little to do with an éclair. Those who know the eclairs from Mein Schiff will be absolutely disappointed.

The salmon tortellini, the braised leg of lamb and the little chocolate cake I chose were all the more delicious in return. This is how one imagines a successful visit to a restaurant.

Since the question will certainly arise: Yes, you can order more than 3 dishes. For example, I ordered two desserts at the French Kiss (To my defense: I have a sweet tooth). This is not a problem at all. The nice waitress made a little joke, but basically there is absolutely nothing wrong with it.

If you are unsure about the portion size, you can just ask. However, from my experience I can say that only those who are really good eaters should order more than 3 courses. Because throwing away food is not so cool.

As mentioned above, drinks in the specialty restaurants are at an additional cost. But what are the prices? Basically, as high as in the restaurants in Germany. For example, a large bottle of water costs a good 6€. This is not exactly little, especially because a few meters away there is water for free. That being said, you're also not obligated to order something to drink if you'd rather not. So you can decide for yourself.
#

3

Best Burger @ Sea

By far the worst restaurant on board. The first glimpse of the restaurant raises high hopes for a grandiose burger like those at Hans im Glück or Peter Pane. And that also free of charge! Of course, I had to try that out.

So one early afternoon we walk there, find a 95% empty restaurant and want to sit down. But then the waitress comes and asks if we have a reservation. PLEASE WHAT? I couldn't believe what I was hearing. She wanted a reservation at the completely empty burger restaurant. I denied. After a short eye contact with her colleague, we were allowed to sit down for once, as many guests were still ashore. Normally, however, a reservation is necessary, she said. Unbelievable. From then on, I didn't really want to continue. But since I really wanted to taste the burger, we made use of the privilege.

The selection of burgers sounds promising at first. After 2 minutes we place our order and get our burgers not 5 minutes later. A look under the bun quickly revealed the misery and I realized: Unfortunately, this has nothing to do with a high-quality burger. The meat patty is tiny and other toppings are pretty much non-existent as well.

Sorry AIDA, but even McDonalds is better. Just a very sad show. And for the 20-minute stay, you should also make a reservation! It all sounds like a bad joke. There is definitely a need for improvement here, because good burgers are really not witchcraft. The fries, by the way, were quite ok, but can't make up for it.

Also, here's a tip if you're craving burgers: At the Fuego buffet restaurant, you can create your own burger. I had the impression that the ingredients were basically the same. And no reservation is necessary here.
#

4

Brauhaus
The Brauhaus is one of the few restaurants that I unfortunately did not try. But the menu shows that there are very hearty dishes like Schnitzel and Schweinshaxe. The restaurant was always quite busy and probably so popular especially because of its beer offer. But the open-air beer garden also looks very inviting.
If you're in the mood for some real fun, you're in for a treat: Oktoberfest-like events are held more often. It even looked quite nice, and if you like that kind of thing, you're sure to do well there.
#

5

Ocean's

The fish restaurant Ocean's has unfortunately stayed denied to me. I would have been really excited about that. According to my research, the food there is also supposed to be really good. If you like fish: book early!
A la carte restaurants on the AIDAnova
Restaurants that require a co-payment, such as the Sushi- or Steakhouse, are similar to those on other AIDA ships, but I did not test them. But here is a short list of the available restaurants, where the food and drinks are available only for an extra charge.
#

1

Sushi House

At Sushi House, you can order individual sushi rolls (€3-5) or a tasting platter (approx. €14). You can find the menu here. The atmosphere is really nice in the Asian area in general. I really liked the design there.
#

2

Teppanyaki Asia Grill

Here, guests are allowed to cook themselves. People sit together at the table and put ingredients as they like into a pot that is embedded in the table. A teppanyaki cook also prepares the desired dishes on hot plates. Prices range from €27 to €34.
#

3

Churrascaria Steakhouse

The right restaurant for meat lovers, because here you get juicy grilled meat from the skewer en masse. If it's half as good as it looks, it's certainly worth it.
#

4

Gourmet Restaurant Rossini

The name says it all – this place is very exclusive, as the menu suggests. For a very special romantic evening, the restaurant is certainly perfect.
#

5

Time Machine Restaurant

The Time Machine Restaurant has caused a lot of speculation in advance and with expressions like "dinner time travel, fantasy and entertainment" it also aroused my interest. So I reserved us a table already from home, on the occasion of my mother's birthday.

With a fixed price of $19.90 per person (during my trip it was still $14.90) for food AND drinks, you don't have to think twice. But can you really expect much at this price? Spoiler: YES, you can!

First of all: a reservation is mandatory here. There are two appointments per evening – at 5:30 pm and at 7:30 pm. In advance you have to choose fish or meat in the main course. The appetizer and dessert are identical. Otherwise, there are no choices (except maybe vegetarian) and no menu to choose from. This ensures a well-structured process.

Finally, the show takes place in the center of the restaurant. Meanwhile, people know what the show is about: the theme is Atlantis. The décor as well as the clothes of the performers and waiters are classically harmonized with it. It looked very creative overall and made a great impression.

The show itself is great especially for kids. After all, my parents and I were not reluctant. We just didn't find the whole thing as extremely funny as the kids did. I liked the acrobatic interludes best about the show.

The absolute highlight, however, was – guess what – the food. The pictures speak for themselves. Not only did it look impressive, but it was also extremely delicious. For this reason alone, the visit was worthwhile. Even if the portions could have been a bit bigger; in terms of taste, it already had gourmet quality.

After an hour and a half we finally saved Atlantis, our stomachs were filled and the show was over. Go there. Treat yourself to the show and especially the food. Definitely worth the money.
Bars & Lounges on the AIDAnova
In addition to the restaurants, there are countless bars and lounges on board. The range of beverages is largely the same. The bars differ from each other mainly visually and musically. Exceptions here, however, are the ice cream bar and Juicy's & Smoothies Bar.
#

1

Ice cream bar

In the ice cream bar you can get a scoop of homemade ice cream for €1. So the price is absolutely fair. Here you can find not only the standard varieties, but also unusual ones that are worth trying.

At rush hour, the crowds can be quite large, which unfortunately increases the waiting time. Here, the process has to be accelerated even more. But perhaps the service system has been improved in the meantime. But the ice cream itself is really good and you should enjoy it. Besides that, there's the free soft serve ice cream at the Fuego Restaurant.
#

2

Juicy's & Smoothies Bar

At Juicy's & Smoothies Bar, you can treat yourself to a proper vitamin boost right after your workout. The juices and smoothies are available for €5-6. However, the ingredients here are not all "fresh". For smoothies, there are pre-proportioned frozen blends that are then mixed together with water. Nutritionally, after all, there is nothing wrong with frozen ingredients and I liked it.

The menu should have something to offer to every health-conscious person and creates a change from sinful feasting in the restaurants.
Kreuzfahrten mit der neuen AIDAcosma
Book an

exciting trip

with the

AIDAnova

.
Whether

European metropolises

or

the Baltic Sea

–

here you will surely find what you are looking for.

7 days from €545 per person
More interesting articles
---
This post contains affiliate links. If you buy something using these links, I'll receive a small commission. This way you can support my work on the travel blog. Don't worry: it won't increase the price of the product!